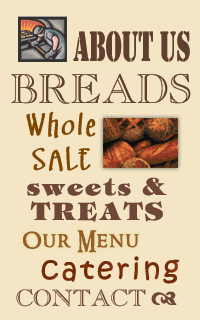 Three Generations Working Together
Three generations of the Ruiz family work at our bakery: George Ruiz and his wife Liz, sons Georgie, Chris and Ian, and daughter-in-law Kiyomi (Chris's wife, that's their daughter Anaya smiling there). Every Saturday, George's dad Valentine helps George and Liz prepare traditional dishes for the appreciative crowd arriving hungry for genuine Spanish cuisine.

George and Liz started the family business in the spring of 2005. George has worked in the bakery business for over 30 years. His wife Liz joined to help with walk-in customers and to cook some unbelieveable breakfasts and lunches. Chris, Georgie and Ian were brought aboard to lend a hand with the increasing demands of the wholesale side of the business.

You can also read what others say about us: Democrat & Chronicle (12/15/05) and Irondequoit Post (3/09/06). Also, see the South Wedge article, the Highland Park Neighborhood article on page 4, and the City review.