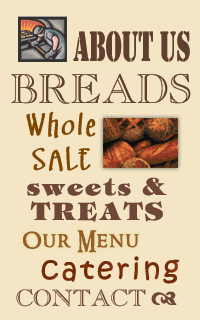 It's easy to get in touch!
You can pick up the phone and call/fax us at: 585-241-3987.

You can also email us info@georgiesbakeryandcafe.com.

You can order specialty breads two days in advance here: specialorder@georgiesbakeryandcafe.com

You can make requests for anything or give us feedback here: customerservice@georgiesbakeryandcafe.com

Visit our Bakery and Cafe in the beautiful Highland Park Neighborhood at
857 South Clinton Ave. Rochester, NY 14620.
Our hours are:
Tuesday - Saturday: 8AM - 3PM

Click here for a map!

We want to hear from you! How are we doing? Is there anything you'd like us to make for you? Do you love old-fashioned breads like we do? Let us know! Your feedback is essential!