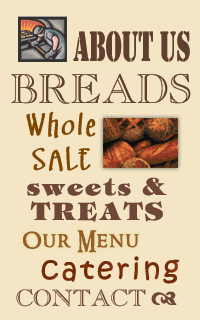 Sweets & Treats | Fresh is Best!
In addition to our Artisan Breads, we also make the most delicious sweets and treats around! All our products are freshly baked each day with only the finest quality ingredients.

We offer classics, such as Danish, Turn Overs and Eclairs (available by order). But we also do treats with a Spanish and European flair. Our Spanish Pastries have become the talk of the town.

Our exquisite Spanish Pastries are unique - take your pick!

Quesitos: A fluffy roll baked with sweet cheese.
Pastelillos: a flaky pastry puff filled with guava or raspberry jam with powder sugar on top.