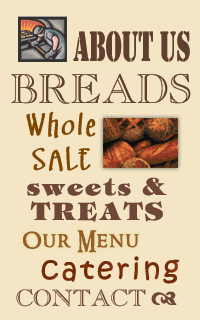 We Can Help You to Serve Your Customers Better!
Some of the best restaurants in the area choose our bread for two reasons: our superior quality and old-fashioned taste that enhances every meal. Our Italian bread is still hand shaped and baked the way it has been done for hundreds of years. Our classic French bread is crisp with a crunchy crust and slightly chewy center. All our breads are made fresh daily. At Georgie's, Fresh is Best!

Our pastries can be found in popular coffee shops, cafes and markets all across Rochester. Our rolls compliment any sandwich. Our "Little Georgie" is a prefect sandwich starter. Crusty outside, soft inside. Other choices include Hard Rolls, Hot Dog Rolls and Dinner Rolls.

We deliver wholesale to over 40 accounts, a list that's growing. Please give us a call or e-mail us with your questions. Be sure to request your free samples!