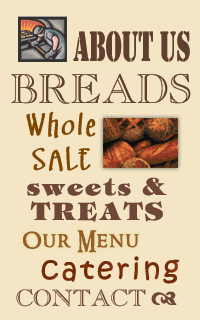 All of our menu items may be enjoyed in our Cafe or To Go!

For Breakfast, we have Egg and Cheese Breakfast Sandwiches on a fresh roll. They may be ordered with or without meat-Ham, Bacon or Sausage.

For Lunch, we have Hamburgers, Hot Dogs, Sandwiches, Empanadas and Subs. There is also a different Soup each day and Chili (seasonal). We have a great Fish Fry every Friday served with our fresh homemade Cole Slaw or Mac Salad. If you desire Rochester's Best Cuban Sandwich, call ahead to make sure we have not sold out of our Cubanos! We feature Puerto Rican home cooking every Saturday from 10AM until it is gone.

For dessert, we have Brownies, Custard-filled Pastry Horns, and Cinnamon Buns. We make all sorts of different cookies everyday. Our Spanish Pastries include Pastelillos (feather light turnovers layered with your choice of slightly bitter Guava Paste OR Raspberry), Quesitos (honey-glazed pastries baked with cream cheese or fruit or Both), Bread Pudding (raisins, cinnamon, eggs, bread to order), Danish and Flan (to order).

Our full menu can be seen and printed out here in pdf format Classic Style.